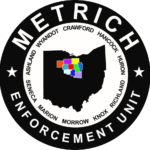 The METRICH Enforcement Unit is a Multi-Jurisdictional Task Force responsible for investigating all aspects of drug trafficking and the crimes associated with importing drugs into Richland County, Ohio. The METRICH Enforcement Unit works closely with all Richland County law enforcement agencies as well as state and federal law enforcement agencies to disrupt the flow of illegal drugs being imported into Richland County, Ohio. METRICH's proven methodology combines both long term and short term investigative efforts. Short term investigations are designed to have an immediate impact on neighborhood concerns and quality of life issues. Our long term investigations focus on identifying and eliminating drug trafficking networks between regional suppliers and source suppliers.
METRICH also assists area law enforcement agencies with overdose investigations, demand reduction presentations, neighborhood watch meetings, prescription drug diversion investigations and participates in the Drug Enforcement Administration's "National Prescription Drug Take Back Day" twice a year. This drug take back initiative removes thousands of pounds of unused or expired medications every year which prevents the misuse or diversion of prescription medications.
METRICH also focuses on demand reduction presentations in the Richland County, Ohio community. The goal of demand reduction presentations is to educate the community about the current trends in the drug culture and METRICH detectives are available for presentations by calling the task force line at 419-755-9728.
The METRICH Enforcement Unit recognizes that we cannot arrest our way out of this opiate epidemic and while most of our responsibility is on the enforcement side, we have adopted the three pronged strategy of ENFORCEMENT, EDUCATION and TREATMENT. METRICH will assist those addicts who want to get help and direct them to those resources for treatment.
METRICH Commander: Lt. Joseph D. Petrycki– Mansfield Division of Police
Website: www.metrich.com
Crime Line: 419-52-CRIME (419-522-2763)
Task Force Line: 419-755-9728